So essentially I wanted to compile a proper list of any new creatures or enemies that have been shown so far in gameplay trailers. Eventually the idea will be to turn this into a compendium, with the B.E.T.A providing more news, and players being able to provide tips for fighting each type of enemy, or where it's located, but for now it's really just an archive with a brief description.
Note: Some of the pictures are really subpar so if you have a better picture, or have seen one let me know and I'll drop it in instead. Specifically some of the un-named creatures, or
The Scorchbeast
Appears to be a mutated bird of some description that just so happpens to have mutated into something very similar to a Dragon. Like many of the new creatures that Fallout 76 has revelead, the Scorchbeast is a massive creature, really seems to be fitting into the wider scope of flying enemies that we're going to have to fight, and has one of the most deadly attacks I've seen from a mutated creature in Fallout, with it being able to shoot beams of energy.
The Grafton Monster
Is this hulking set of arms with a body. I imagine it's going to be sort of similar to the Super Mutant Behemoth, at least with the idea that it's going to be an incredibly strong, incredibly rare creature that will be able to absolutely destroy you if you get too close. The size difference between the arms is interesting, makes me think that the smaller, thinner one might be a faster attack, possibly with a spinning move of some sort? Very difficult to tell but we know it's going to be strong.
The Super Sloth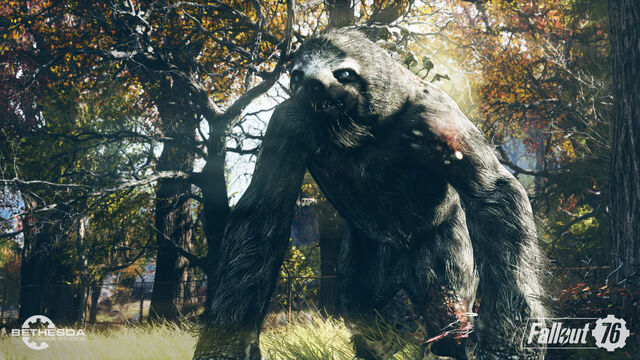 I'm more just glad to have a great image for this one :P But really, it's a Sloth, that went... Super. It's large, and has those interesting mushrooms on it's back which from clips I've seen might have the ability to leak radiation (or poison) which makes this a pretty interesting creature. I don't think it's going to be quite as strong as the Scorhbeast or Grafton Monster, but that ability might be difficult to deal with for melee users.
The Snallygaster/ Snarly Yow?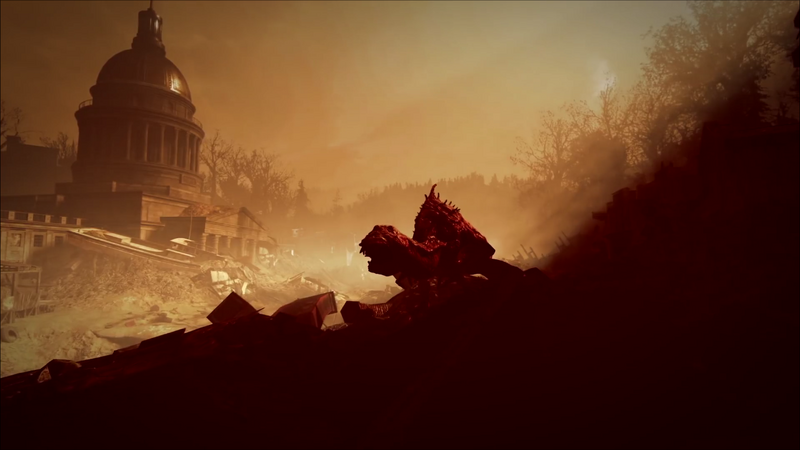 A...truly fearsome name, but many sources seem to be indicating that this creature may be called the Snallygaster. I haven't seen much gameplay for it so I have no idea what it'll do but the FalloutWikia claims that it's something that spawns only in radiated areas after a nuke-drop, so...I assume it's going to be a different type of powerful enemy. One that's deadly, but more because of it's speed and ability to radiate you (it's bites I would imagine are packed full of Rads).
Mothman?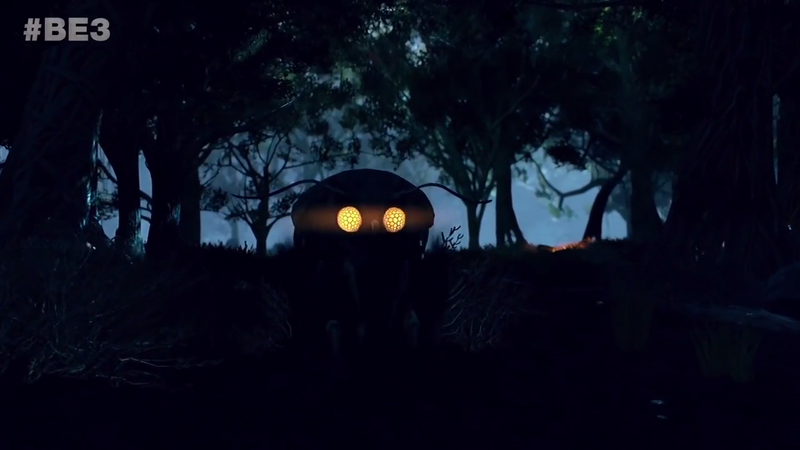 So...yeah, this thing. Little bug creature, maybe some kind of...hmm nope I've got no idea. Some sites say that this is Mothman, but I've got no real clue. Regardless I kind of like the idea of this being a nocturnal creature that only pops out at night, makes for a more atmospheric time if this thing (and a few of the other creatures) are your 'night terrors'.
The Wendigo?
Not me, but Fallout Wikia calling this a Wendigo. Dunno if I'm just a bit biased from playing Until Dawn so it doesn't really look like what I imagine, but it'd definitely be a cool creature to see in F76. Again I could see this being a purely nocturnal creature, focused on 'sneak attacks' and just popping out of nowhere to give Fallout a different type of horror vibe than even Ghouls.
Mutant?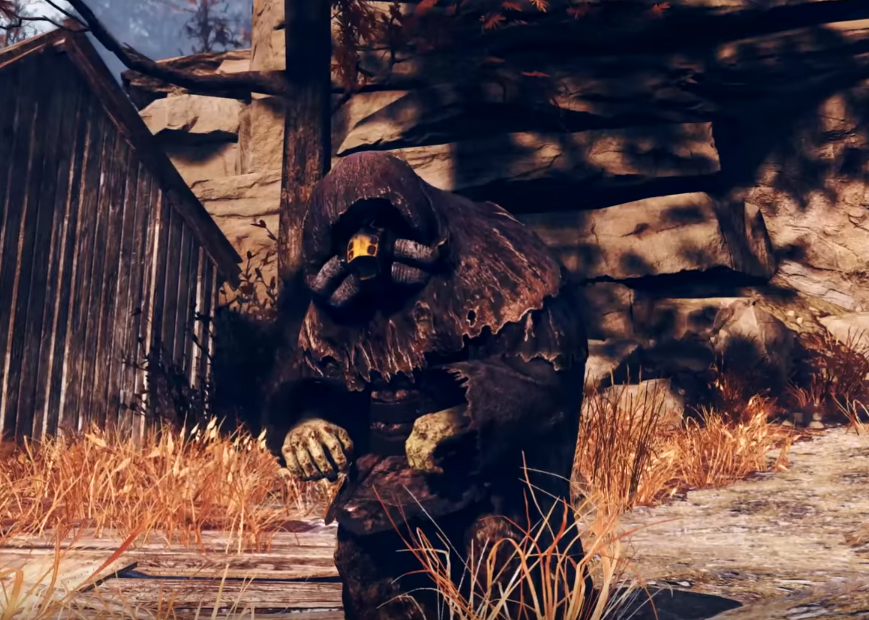 So this is another humanoid looking creature, but to me this is far more human than most other creatures we've seen. To me I sort of like the idea of this being a Mutant Crone, or a sort of precursor to the Super Mutant, maybe even a female version? I have no clue what it could be, but to me it looks kind of like a Witch or Crone in some games, maybe the sort that would throw vials of poison that explode...dunno, but it's just some of my early thoughts.
Spiderwasp? Spiderhive?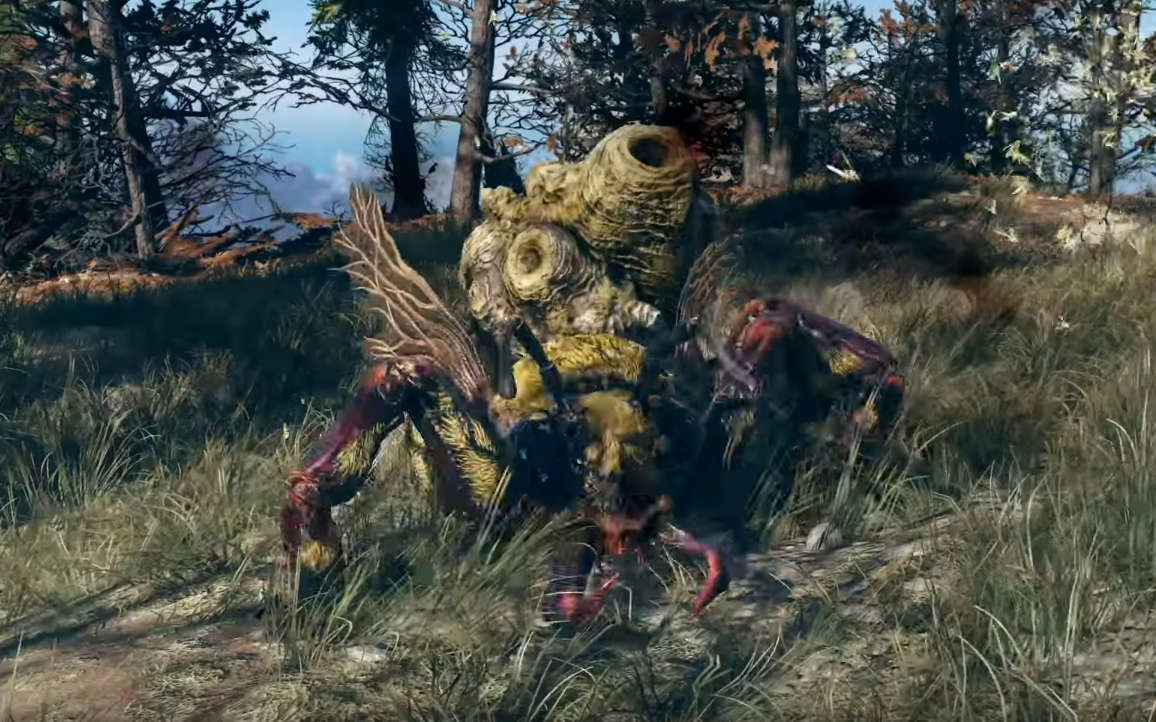 Urgh, just...the worst looking creature so far IMO. Not in terms of it's actual design, but I'd rather fight the Scorchbeast with my fists then ever come near this disgusting thing. From what I've seen of the gameplay it's main attack involves using the hives on it's back to shoot out bees or wasps, which could be kind of annoying to deal with (making fire a great weapon). Not sure, it could just be shooting out 'spores' of some sort, but it seems like another rather unique creature that does something different than just hit you in the face.
FROG!
So, this is just the concept art for the creature because I absolutely couldn't find a decent screenshot of it, but the idea is that it's a mutated frog or toad with a lot of eyes...
The White Thing?
Yeah...as you can tell I don't have a good picture for it, but here it is. Literally nothing to report on it other than my absolute terror at this thing. I can imagine it kind of acting like the creatures in The Quiet Place (if you've seen it), basically giant creatures that are insanely fast and can tear across open country and just snatch you up. I mean let's be real, this thing is terrifying and I love the idea of it being an insanely fast monster
This post was edited by SpookyBorn2021 at June 18, 2018 8:21 AM EDT