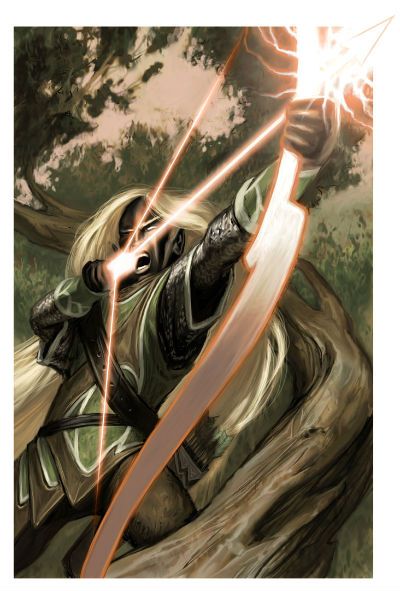 Planar Ranger
Mysterious, all-knowing, deadly. The planar ranger chooses to explore not the mundane wilderness or even civilization but rather the various planes of existence available to him; daedric, aedric or otherwise. With this, the Planar Ranger gains immense knowledge, not of the world surrounding him but of the very multiverse itself, powerful knowledge indeed.
The planar ranger is a ranger through and through, using one handed and archery in combat. However, also used is the power of conjuration and alteration instead of the worldly armor skills and smithing, allowing the ranger to summon otherworldly beings, powerful weapons and magical armor from the very realms of Oblivion itself.
Playstyle
The planar ranger plays many roles, as is the norm for rangers overall. However, the planar ranger also uses the planes to his or her advantage, summoning atronarchs and daedra, along with powerful magical weapons or armor. Along with this, the ranger posesses a variety of abilities to shift out of or otherwise manipulate the realm in which he exists, turning the tide of battle in his favor.
Race
The race I have chosen for the Planar Ranger is Breton, due to the given bonuses and starting spells.
However, other races considered include:
Altmer - High mana stats
Bosmer - The quintessential "ranger" race
Major Skills
Conjuration: The lynchpin of this build, turning a regular ranger into a mysterious being of the numerous planes
One-handed: Mystical bound swords for close range fighting
Archery: Powerful bound bows for battling at range
Alteration: Eschewing traditional "Physical" armor, the Planar Ranger prefers to summon his own set of powerful magical armor
Minor Skills
Sneak: The Planar ranger doesn't simply hides in the shadows, he warps out of the very plane itself to reappear where he wishes
Enchanting: Using the souls banished to the soul cairn, the planar ranger weaves powerful enchantments over his garments.
Stone
Considerations for stones include:
The Lady stone: Offsetting to a degree the lack of restoration/alchemy, along with increasing your overall stamina useability
The Lord stone: Gives a form of backup armor in case protection is needed without magical armor up (Personal Favorite)
The Lover Stone: With so many abilities with such a high skill ceiling, this is a good way of boosting experience gained in them
The Shadow Stone: Gives a free long phase shift without using a shout or large amount of mana
Level 20 Build
Conjuration   

Alteration             

Archery

One Handed

Novice Conjuration

Apprentice Conjuration

Summoner

Atromancy

Mystic Binding

 

 

Novice Alteration

Apprentice Alteration

Adept Alteration

Mage Armor (2)

Overdraw (1)

Critical Shot (2)

 

Armsman(2)

Fighting Stance

Critical Charge

 
| | | | |
| --- | --- | --- | --- |
| Enchanting | Sneak | |   |
| Enchanter (1) | Stealth (1) | |   |
At level 20, the primary focus is to get the magic skills up, giving you utility and survivability whilst still allowing for efficient combat via points in the combat skills.
Level 40 Build
Conjuration (100)


Alteration (100)     


Illusion (50)

Enchanting (100)


Novice Conjuration

Apprentice Conjuration

Adept Conjuration

Expert Conjuration

Master Conjuration

Summoner

Atromancy

Elemental Potency

Mystic Binding

Soul Stealer

Oblivion Binding

 

Novice Alteration

Apprentice Alteration

Adept Alteration

Expert Alteration

Master Alteration

Mage Armor (2)

Novice Illusion

Animage

Kindred Mage

Silent Casting

Enchanter(1)

Insightful Enchanter

Corpus Enchanter

Extra Effect

 
Archery
One-Handed
Sneak
 

Overdraw (1)

Critical Shot (2)

Armsman (2)

Fighting Stance

Critical Charge

Stealth (1)

Muffled Movement

Light Foot

Silent Roll

Silence

Shadow Warrior

 
At Level 40, the Planar Ranger is more or less at full capacity, with very few additional perks issues to iron out, such as additional points in archery, one handed and potentially sneak. Although there are a number of skills that will require grinding to achieve the levels for, the requirements are by no means impossible.
Past Level 40, the main goal is to flesh out the combat skill trees further, granting more damage or utility. Along with this, the stealth and enchanting trees may also be further used, depending on your favored play-style. A recommended perk to get is "Twin Souls" however, simply due to the force multiplication it provides
Skill
Plane Shift
Phase in and out of existence at will, controlling the fight. Using any combination of Become Ethereal, Invisibility, Shadow stone and crouching (With Shadow Warrior) to disappear, reappearing moments later where you wish. The more abilities that are used in each respective shift, the longer it becomes.

*Although there is only one skill listed, there are many more combinations of abilities, spells and shouts that can be used to gain the situational upper hand. The main reason I haven't listed these is because the combat style of a ranger is based in responding to changes in combat dynamic along with personal weapon preferences. As a general rule, it is beneficial to summon any familiars/thralls, followed by archery and then close combat, however, fight responsively and use whatever you need to to gain the advantage. By adding further skills, I find that the flowing, responsive combat style of a ranger would be hindered by preset combos, instead of abilities being used where appropriate. However, feel free to use familiar tried-and-tested combinations in combat.
Now, go out and find your place in the planes!
If you have any questions or suggestions, please don't hesitate to post below! 
While you're at it, why not take a look at my other quality builds?
Blackguard   Four Horsemen of the Apocalypse